START PLAYING GREAT GOLF
IMPROVE YOUR GAME WITH THE WORLD'S FASTEST-GROWING GOLF LEARNING PLATFORM
UNLOCK 500+ GOLF INSTRUCTION VIDEOS
AMAZING NEW VIDEO LESSONS EACH WEEK
CUSTOMIZE AND SAVE YOUR LESSON PLANS
DETAILED ARTICLES FULL OF EXPERT ADVICE
OVER 40,000 HAVE JOINED AND ARE IMPROVING
over 40,000 members strong - read what they say
Read all our member reviews
Michael Burbano -

I feel bad for my golf instructor! After finding out about the guys at "me and my golf", i've learned more watching their videos than I ever could have with an instructor. 30 minute sessions compared to constant videos at my leisure have given me more time to learn and practice my swings. You guys truly provide easy to understand lessons for golfers at any level. Thank you so much, you guys are a blessing for the golfing community!

Salvatore Cuccia -

These two are officially my favorite golfers in the world! Never before have I seen such detailed yet comprehensive instruction. I've taken lessons with several local pros, but nothing they'd shown me compared to the knowledge and instruction I've been given by Piers and Andy. The information is given in an easily digestible and light hearted manner, making it very easy to retain and focus on. My brother makes fun of me for watching too many videos, but the change in my game has proven its value. A month of viewing and practice brought me from a 105-115 average to five rounds in a row averaging 95! This made me a true believer in their understanding of the game, so I recently committed to the official site. The site is so helpful and easy to navigate. The subdivided sections that focus on specific issues and the ability to create your own playlist make this site a useful tool for players of all skill levels. I continue to learn from these videos and am continuing to improve. Aiming for the 80s next season. Thank you so much, gentlemen. You've made such a difference in this golfer's game, so please keep it up!

Brett Mackin -

Can't recommend Andy and Piers highly enough. Was shooting around 100 at my local course.. Solely due to meandmygolf.com I have now shot as low as 80.. Number 1 golfing instruction I have come across. Big thank you to you guys all the way from Sydney, Australia

Craig P. -

Hands down you both are providing the best techniques to master the mechanics of the golf swing. It feels Hogan, but modified for modern equipment due to technology. Efficient, repeatable, powerful. It's just physics. Thanks for playing Taylormade!

Beau S. -

Some of the Best teachers, they keep it simple, helped my game. Shooting in mid 90's

Greg T. -

I love your site. Your instruction is just fantastic. The combination of video with explanation and correction drills is superb. I am a single digit handicapper who basically knows my swing and its faults. Your videos have really helped my ball striking and short game. You guys are such good teachers. You teach directly and plainly without all the nonsense, plus you both have beautiful swings which helps a visual learner like me to emulate. I am so glad that I joined.
Your site is very well organized and easy to navigate. I love the fact that I can create my own categories and save videos to refer back to later. I am so glad that I found this. Thanks a bunch!

Chris K. -

These guys and their videos are awesome. Really helped me out of a funk and got me back on track!

Scott W. -

Start with the grip video, go to ball position, address your posture, get the timing down, and then watch your score go down. Just that easy! These guys are great!

Thomas J. -

Thanks for giving me something to do and learn while deployed in the military. Can't wait to apply what I have learned to courses all around the world.

GolfTeam Powell Kent, UK -

We at Team Powell have been watching the videos and instructions of these for guys for some while and can honestly say they are the best for no nonsense easy to understand golf instruction. There tips have helped us reduce our handicaps and we have now won 3 monthly medals in a row which is fantastic. There website is easy to use and packed with loads of stuff to help your game, so don't delay get signed up today and as the guys say "take charge of your game".

Neil C. -

As a high handicapper I often get confused by some of the more technical and not so relevant teaching out there, but not so with meandmygolf. Excellent practical tips delivered clearly and easy to understand. Already helped me to improve and certainly understand what I'm doing wrong.

Jack M. -

I have recently joined, but I have been watching the videos for a few months now and they really have made an impact on my game. The level of instruction given in such short videos is the perfect combination. I have learned a lot from the website and videos and I do feel that I am taking charge of my game. Thanks for your videos and instruction.

Nuwan A. -

I have followed meandmygolf for some time. Andy and Piers have a great approach to the game. Their videos are simple to understand and well presented. Their approach focuses on the whole game and having a tailored plan for each golfer makes so much sense. They always make an effort to reply to the many questions they get asked.  Thanks so much. Keep up all your good work and look forward to seeing more great videos!

Roberto E. -

Meandmygolf.com is not only a complete book of concepts and drills properly organized and explained in a highly didactic way. It is also a demonstration that golf knowledge can be spread in a friendly and funny manner. There is no doubt that watching the videos from Piers and Andy golfers of any level will shoot better scores very soon. I decreased my handicap from 11 to 7 in only 6 months!

Richard D. -

As with many instructional videos they can leave you puzzled and sometimes frustrated, but you guys at Meandmygolf are thourugh and your videos are brilliantly illustrated, I know your drills and methods have helped my game in abundance looking forward to you and your team getting me to single figures this year.

Thomas M. -

Joined a few days ago, had watched many of your clip in past year,
spot on, no blab, exact help in all areas,
thank you two guys a lot.
thomas

Tony A. -

I started to play golf more seriously over the last couple of years. I needed to look at my swing and how to be more consistent. I viewed a lot of on-line coaching videos, but nothing seemed to connect with me until I came across "Meandmygolf". Both Piers and Andy seems to explain the fundamentals in a way I understand. All the help and practice has taken me from a 24 handicap to a 16, and I am looking to get down to single figures this year with the help of Meandmygolf #takecharge.

Atilio Josué -

Thanks to Me and My Golf.com I've been able to improve my long and short game. I've scouted over the internet, and haven´t found a better source of tips and drills. It's amazing the way Piers and Andy make it easy to understand, therefore, easy to apply. Thanks again guys for such amazing job and help, you give me everyday.

Sam H. -

Excellent, easy to follow advice that has helped all aspects of my golf game tremendously!

Bryan K. -

These guys are awesome, watched a driver tip video and shot 71 the next day after hitting almost every fairway! Thanks guys! #kbomb

Dean G. -

I was a bit skeptical about spending $10 or so a month on two blokes telling me how to swing a golf club on the net, how wrong was I. I just wanted to say a massive thank you to you both, my game has improved so much in the 4 months that I've been a member and now all I want to do is play or hit balls at the range. Also, Andy did a little segment on chipping from the rough and coming down onto the ball.....well anyway I had a shot like that and I thought to myself what did the boys tell me to do. I was literally 5cm away from the water in sand with little back swing, so I've come down on to the ball and I got out (it didn't go far, but I got out) with out dropping a shot, so again thank you so so much for your great videos, loving every one of them. Cheers!

Ross Whitaker -

Excellent. Glued to it. Dropped three shots in 4 weeks due to previous videos, hopefully something similar will happen because of this website!

Stephen Ractliffe -

Progress! My handicap has come down from 11 (11.0) to 9 (9.2) in August 2017 across a run of three competition rounds out of four. Back in December 2016 I used the fault fixer to help improve ball-striking of my irons. MeAndMyGolf provided me with some videos to help with lag. And in August this started to feed through. MeAndMyGolf works for me better than one-on-one tuition with a teaching pro. I think this is because with the latter my swing is like a house of cards; all parts of the swing become up for grabs and I end up with no swing for at least a year. With MeAndMyGolf, I keep my swing private and only I know how to piece it all together; I can fix one thing at a time and integrate the change into my whole swing. So, on to the next fault to fix for 2018...

Robert H. -

I hadn't played golf in almost 20 years. But started playing again when my oldest daughter started playing on the high school golf team (she just literally started playing golf in April of 2017 when she joined the team). So I was looking for help to get my game back in form, so I could practice with her. I watched a bunch of videos on youtube and even joined some sites, including this one. But Me and My Golf has been the easiest for me to follow, with simple to duplicate drills, and no super long winded mumbo jumbo in between. Plus, they show they like to have a little fun and that's what golf should be about. It has really helped me with my game and I keep improving. Thanks Andy and Piers!

Gabriel A. -

I am still recently new to golf (8-21-2017) is only my 3rd year of golfing more than 3 times a year. I have been following Me and my golf first on youtube, then for the last year as a member. Knowing my swing faults, and being able to have them, through their videos, show me drills to fix them has helped me improve my game and enjoyment level of golf even more. I highly recommend this site to anyone, whether beginner or not if you want to improve you golf game.

Britten Goldhardt -

Love your stuff guys. I've learned more this summer with your videos than the last 3 years with my old swing coach. Biggest telling point, dropped almost 5 strokes off my score. Huge! Thanks!!!

Jeff Wilson -

Love this website! I have only been golfing for a few months and I have looked at several other websites and programs before this one, and meandmygolf was easily the most comprehensive and helpful resource I have found. I went from barely getting the ball in the air to quickly hitting quality golf shots fairly consistently. Thanks to your website, I already feel like a pretty educated golfer. Can't wait to watch more and continue to improve. Thanks guys!

Joe C. -

Awesome. These guys have been YouTube/Instagram favorites for some time, so expanding my access to their knowledge was a easy call. Their knowledge of golf is simply brilliant, and their personalities are great learning platforms. Wether you're also working with an in-person pro, someone balling on a budget (it's a great value), or even the 8 handicap looking to get scratch, it's with it!

Stephen T. -

Top content really helped me with my game!

Simon R. -

Really good website with a lot of variety of videos and texts. Today I trained with my chipping using your website and I saw difference when I went out playing the course. Hope I can get an even better handicap with you guys currently at 9 :)
MEET YOUR NEW "SHOT FIXER"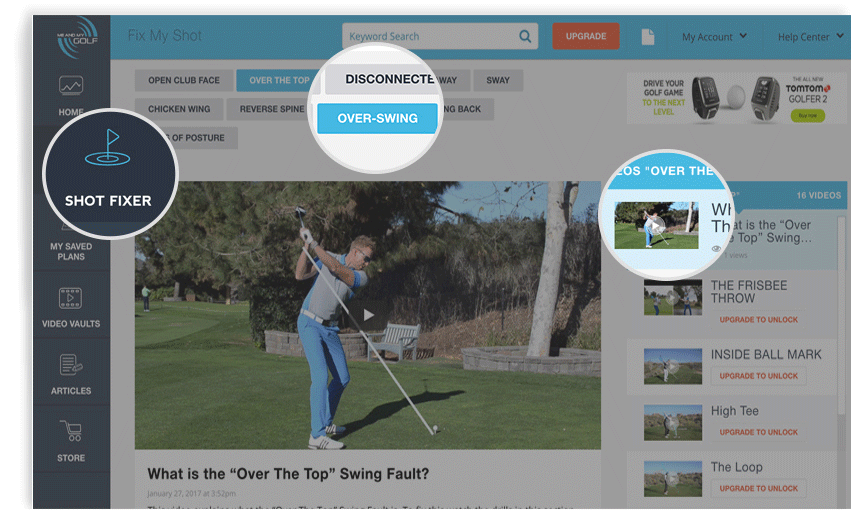 DO YOU WISH YOU COULD SHOOT IN THE 80's OR 70's? WE CAN GET YOU THERE!
CURE YOUR SLICE
FIX YOUR HOOK
HIT MORE FAIRWAYS
PURE YOUR IRONS LIKE NEVER BEFORE
AND SO MUCH MORE...
VIDEO VAULTS FOR YOUR WHOLE GAME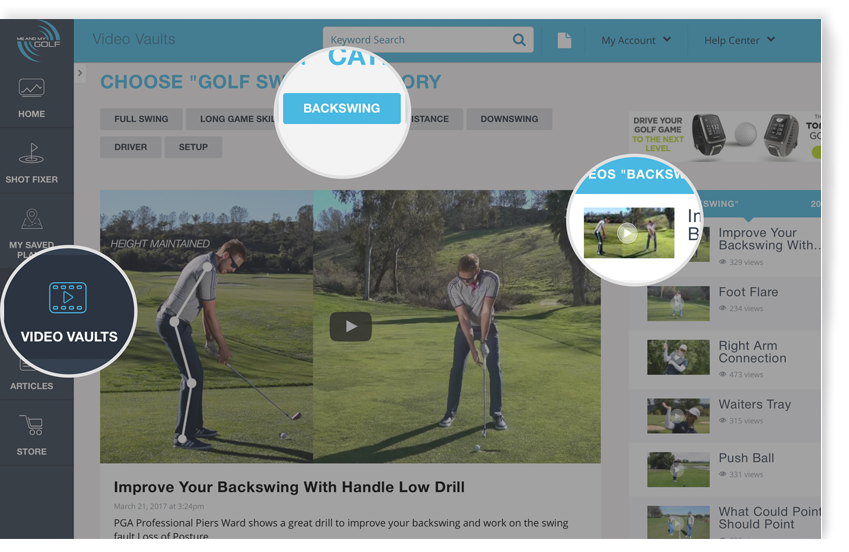 YOU'LL NEVER GROW TIRED OF ALL THE ORGANIZED VIDEOS THAT WILL HAVE YOU PLAYING THE BEST GOLF OF YOUR LIFE!
VIDEO SERIES
WEEKLY NEW VIDEOS
SHORT GAME VIDEOS
ON THE COURSE VIDEOS
NEW VIDEOS EVERY WEEK!
MONTHLY PRODUCT GIVEAWAYS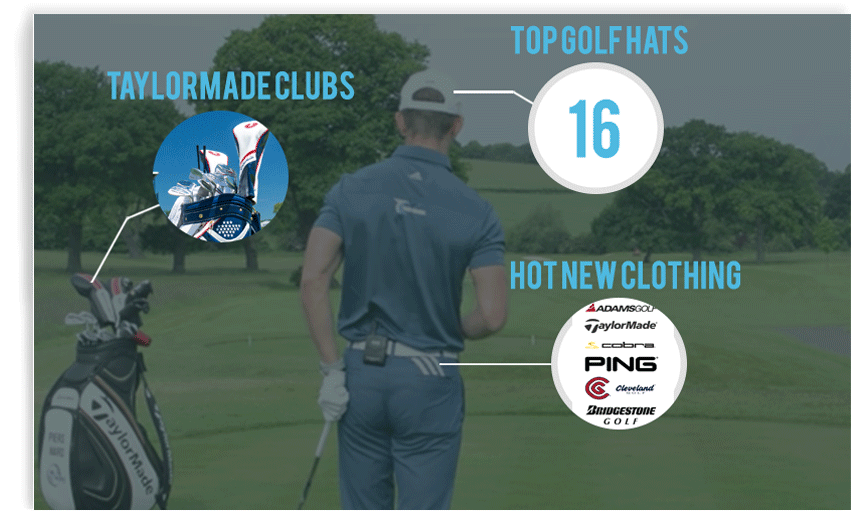 EVERY GOLF ADDICT LOVES NEW EQUIPMENT FROM THE BEST GOLF BRANDS IN THE MARKET.
EVERY MONTH WE DO A DRAWING OF ALL OUR MEMBERS AND GIVE GREAT PRODUCTS TO THE LUCKY WINNERS.
PRODUCTS SUCH AS, DRIVERS, IRONS, WOODS, GOLF BALLS, AND MORE!
SEE OUR LATEST PRODUCT GIVEAWAY