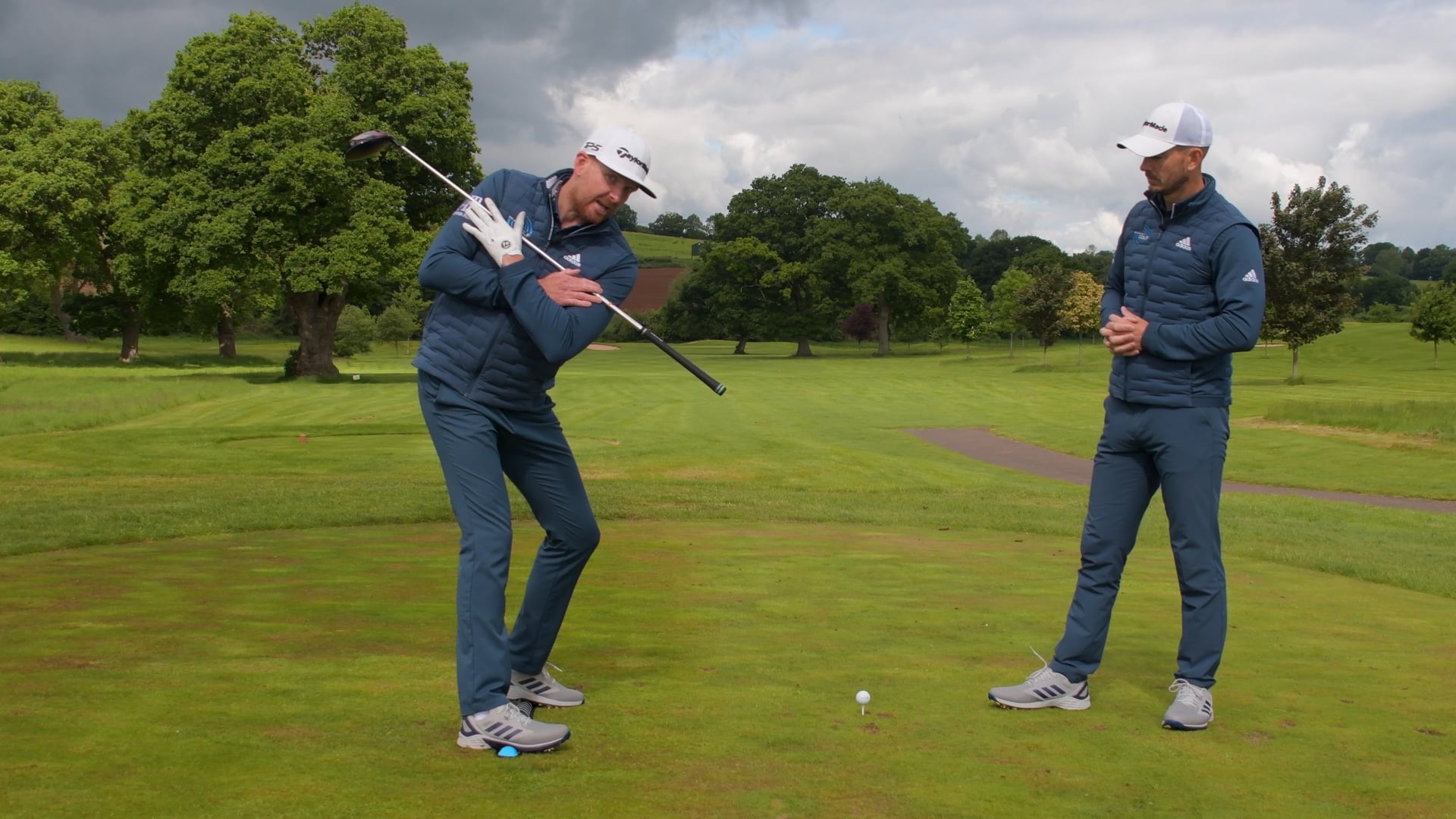 WE HELP THE AVERAGE GOLFER PLAY THEIR BEST GOLF, EVER!
JOIN TEAM ME AND MY GOLF TODAY
Are you an amateur golfer who wants to improve your golf game fast, and start shooting your lowest ever scores consistently within weeks?
By working with us, we will make you a better golfer – it's that simple. If you do what we ask of you and commit to the process, you will make remarkable and long-lasting improvements to your game that no amount of swing lessons or new clubs have ever been able to do for you in the past.
Led by world-renowned PGA coaches Piers Ward and Andy Proudman, we combine super simple on-demand, online lessons and practice plans with a supportive global community of like-minded, improving golfers – all in a single, powerful coaching membership.
Ready to join Team Me And My Golf and play the most enjoyable golf of your life?
THE $30K ONLINE COACHING PACKAGE – FROM $12 A MONTH!
*FREE 7 DAY TRIAL INCLUDED*
Our mission is to help you play your most enjoyable and consistent golf of your life. That's why we've put together an online golf coaching package that is worth over $30,000 in total.
The beauty of online coaching means you have access to top coaches wherever you are in form of golf coaching EVER. Using our platform, you can access our very best lessons on the go or in the comfort your own home. Making real improvements to your game has never been easier!
What would cost you upwards of $30,000 if we were to work with you in person, starts from the equivalent of just $12 a month. That's why golfers who are serious about improving are desperate to join Team Me And My Golf.
Maybe that sounds too good to be true. That's why we throw in an automatic 7 day trial so you can try it for yourself with absolutely no risk!
Here's everything you get in your membership:
7 Day Free Trial
Apple & Android App
My Roadmap Tool
Coaching Plans
Exclusive Video Library
Swing Analysis Tool
Access Video Podcasts

Exclusive Monthly Shows

Shot Fixer Tool
Golf Brand Discounts
Access To Andy & Piers

Expert Coaching Team
Supportive Community
Private Facebook Group
7 DAY FREE TRIAL
JOIN TEAM ME AND MY GOLF
SUBSCRIPTION PLANS
You have 3 flexible options to choose from for your membership. You don't have to pay anything for the first 7 days – your chosen subscription will kick in after your free trial and your card will automatically be charged to speed everything up and make sure you don't miss a second of our coaching content.
WHO'S IT FOR?
AMATEUR GOLFERS WHO ARE FINALLY READY TO play consistently good golf.
The better question may be: who isn't it for? If you're not ready to practise with purpose, this isn't for you. If you're expecting maximum, long-lasting results from the minimum effort, this isn't for you. If you're not ready to take your golf development seriously, this isn't for you.
But if you are ready to commit to our process – working through our simple but powerful coaching plans, practising our drills on the range and staying focused on achieving your goals – then we are the perfect golf coaches for you, regardless of your level of ability.
The easy way to learn golf
Me and My Golf helps you learn everything you need to play golf, in no time at all. Learning golf doesn't need to be difficult or complex and with our coaching, you will be amazed with the results that are possible. We make golf simple.
Our videos cover everything, starting from the basics like how to hold the club, the correct stance, how to swing with ease and how to strike the ball consistently with accuracy and power.
Don't Wait To Start
Many people wait before they get coaching but this only leads to delayed progress and the start of bad habits.
"You don't have to be great to start but you have to start to be great".
The hardest thing is getting started and we understand the difficulties that beginners have. That's why our coaching is specifically designed to help you make fast progress and grow in confidence as we support you right from the start of your golfing journey.
Not only is our coaching so simple, but you can also learn in your own time, in the comfort of your own home, before heading to the range armed with everything you need to develop your game quickly.
Once you know how to handle the beginner drills with confidence, our intermediate training programs build on those basics by teaching you the skills and techniques you need to maximize the effect of your current swing.
Time for even better scores and breaking 90
Time for the next step in your training: break 90! Going to the next level, we start by looking at some of the crucial elements of your game – we show some of the common problems golfers struggle with and how to fix them. The techniques we teach you to fix your slice and hook and to manage your ball-flight, are the same ones the pros use. By following our videos, you will learn how to consistently hit long, straight drives and how to develop your putting to drastically reduce those 3-putts. Finally, we reveal on-course training strategies to dominate those Par 3s, 4s, and 5s.
Different plans for different golfers
Over the last 20 years, we have worked with all types of golfers from beginners to Tour Pros. We share simple tips that help you shoot lower scores and stop making silly mistakes. Our videos provide sound advice on your mind and how to keep calm on the golf course. You'll discover how to deal with sloping lies and trouble shots. You'll also develop a Tour Pro pre-shot routine for more consistent results under pressure.
Avoid mistakes!
There's no such thing as a perfect golf swing. To become a good golfer, you have to be aware of the common mistakes and learn how to avoid them. Our easy-to-follow videos pinpoint the causes of your soul-destroying slice, help you build a consistent backswing and enable you to hit a perfect draw shot.
Consistency, control and then domination
Consistency is the name of the game—it's also what we teach you. As you watch your videos, you'll learn how to dominate par 3's, how to play the perfect lay-up and how to optimize for distance and trajectory. You'll discover how to address the ball and take advantage of seemingly adverse conditions on a windy day. We will analyze the common moves of a touring pro and show you how to replicate them.
The 5% – BREAK 80
Less than 5% of golfers break 80—and you will be one of them! You'll learn how to create dynamic balance in your swing for pure contact, how to straighten out your ball flight and how to optimize your launch and spin for long drives. At this stage, our training will sharpen up your "shot-making" skills, enabling you to deal with any situation you're faced with. You'll also learn how to hit fairways under pressure and deal with short-game trouble shots and awkward lies. Finally, we teach you the techniques the pros use to stay calm and cross the finish line in the 70s.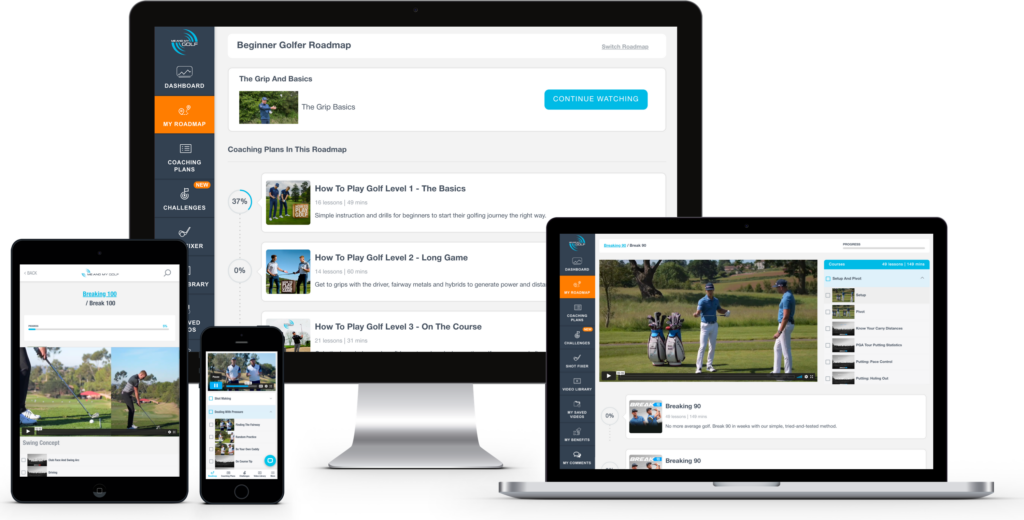 MY ROADMAP TOOL
Your Step-By-Step Journey To Your Best Golf
Let us build an easy-to-follow route to better scores! Whether you're looking to learn the basics, break 100, 90 or 80 our roadmap tool will show you the way.
Set yourself individual targets and combine all the coaching, practice and drills you will need to meet (and exceed!) those targets in one place. Accessible anywhere, at any time.
BEGINNER GOLF
Target: Start playing golf with confidence on the golf course.
BREAKING 100
Target: Breaking 100 quickly – and then consistently, round after round.
BREAKING 90
Target: Breaking 90 with ease. Say goodbye to average golf in weeks with our simple, tried-and-tested Break 90 system.
BREAKING 80
Target: Shoot in the 70s consistently. Break 80 within weeks with our game-changing plan.
COACHING PLANS
STRUCTURED COACHING PLANS FOR FAST RESULTS
Get unlimited access to ALL our coaching plans – and every new plan we add to the site – worth over $30,000! Developed over decades of teaching, these plans give you the practice structure you need to meet your goals, detailed week by week in an easy-to-follow schedule.
We deliver our secrets, tips and drills for improving EVERY PART OF YOUR GAME through a comprehensive library of powerful in-depth plans, structured to provide fast results and tell you exactly what and when to practice.
ACCESS ALL COACHING PLANS
Access all plans covering every part of your game, from driving, iron play and short game, to strategy and fitness.
BUILT FOR IMPROVEMENT
These plans are what we would work on with you if we were coaching you in person. If you follow them, your golf will improve, it's that simple.
Practice with purpose
We tell you exactly what to practice and when, no matter what level of ability.
YOUR PERSONAL COACHES
Online golf coaching is just like having Andy and Piers as your personal trainers.
EXCLUSIVE CONTENT
MEMBER-ONLY CONTENT YOU WONT FIND ANYWHERE ELSE
Get access to our video library of 1,200+ videos that can't be viewed on our YouTube channel or anywhere else for that matter! Plus exclusive live content, webinars and new shows just for members every single week.
We've also extended our coaching team to add amazing additional insight into crucial areas of your game, from rules and equipment to psychology and fitness.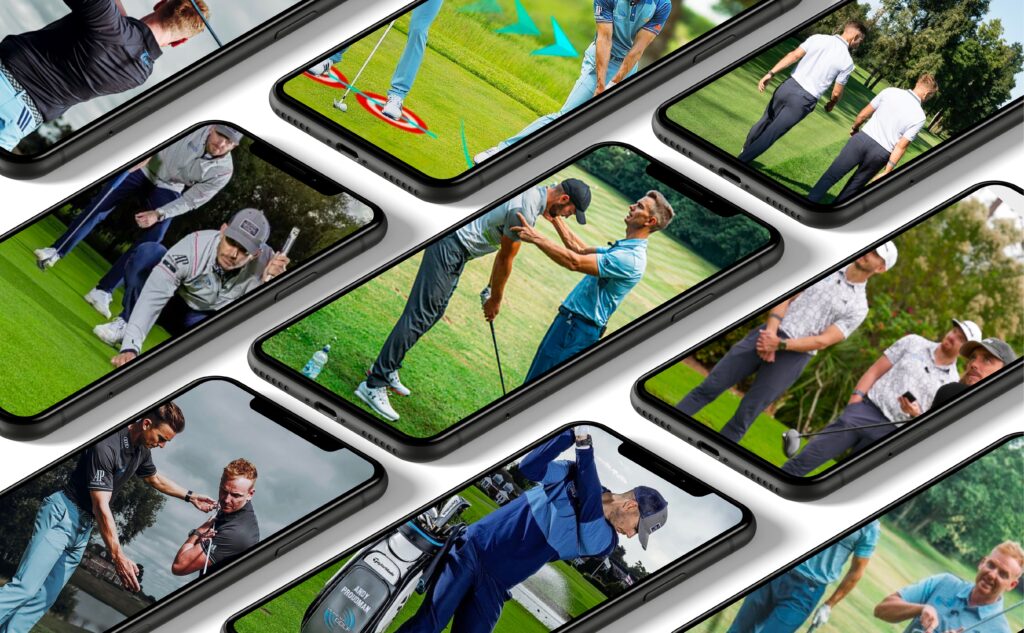 EXCLUSIVE VIDEO CONTENT
We save our best content for the team. Our members are the only ones who can access our very best content, all stored in our massive video library.
New Content Weekly
We're constantly working to bring you new, exciting and fresh content. You'll get brand new content every week that is exclusive to our members.
A TEAM OF Experts
It's not just about Andy and Piers. Our extended coaching team offer additional coaching that you can't find anywhere else!
EXCLUSIVE MONTHLY SHOWS
'Your Caddy', 'Golfers Transformed' and 'Single Digits' are just some of the exclusive regular shows that members (and only members) can access every week.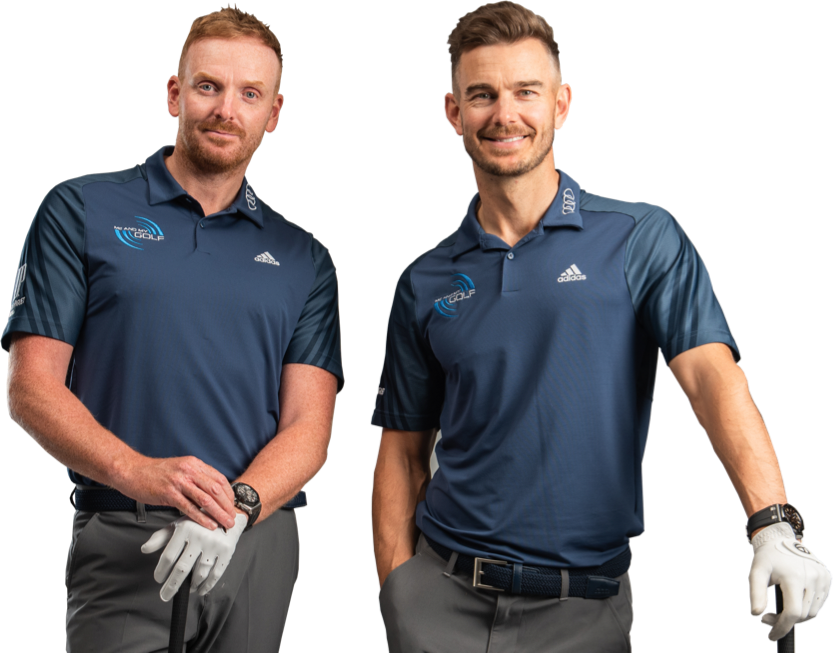 30 DAY COACHING CHALLENGES
FOCUS AND WORK TOGETHER AS A COMMUNITY TO MEET YOUR GOALS FAST
Available for Annual Members only, our incredible coaching challenges give you the rare opportunity to work in person with Andy and Piers, alongside other like-minded golfers all with the same aims.
The aim is to help you meet a specific goal as quickly as possible – and make improvements to your game that will last a lifetime… in 30 days or less. This is all about harnessing the power of community to keep each other focused and accountable in order to achieve something amazing together!

30 DAY SWING CHALLENGE
Get personal video feedback on your swing from Andy and Piers during our 30 day swing challenge and follow the four week coaching plan to see rapid results. Enrolment has now ended but you can follow our challenges in your own time.

FIX YOUR SLICE CHALLENGE
Fix your slice in 30 days or your money back! If you follow this revolutionary 9-step system, you WILL fix your slice for good. But can you do it within just 30 days? Join thousands of golfers as we all fix our slice together!
SHOT FIXER TOOL
OUR SHOT FIXER TOOL HELPS YOU SOLVE YOUR ISSUES, FAST!
Have a consistent miss or bad shot that ruins your rounds or that makes you want to quit the game for good? Get rid of your misses and swing faults for good with our shot fixer tool – giving you more control and confidence than ever on the course.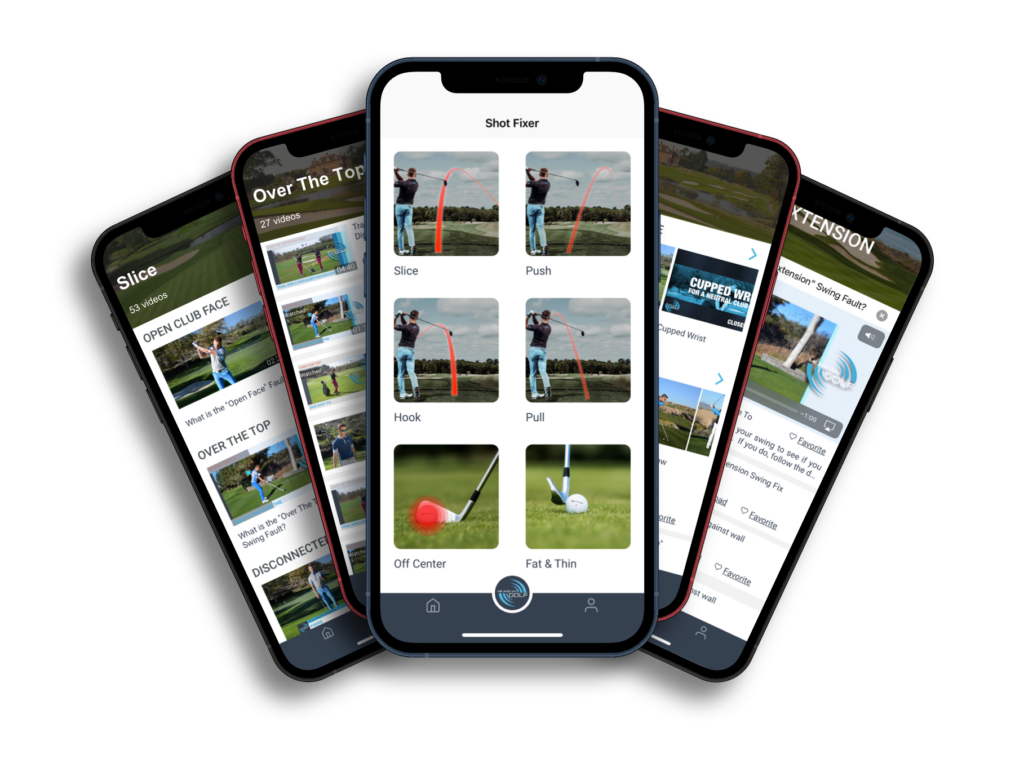 SWING ANALYSIS
OUR UNIQUE TOOL TO FILM, STORE & ANALYSE YOUR SWING
Film, store and analyse your swing with our handy app tool. Draw lines, circles and handy hints to help you understand your swing like never before. We'll help you analyse your swing so you can become your own swing coach!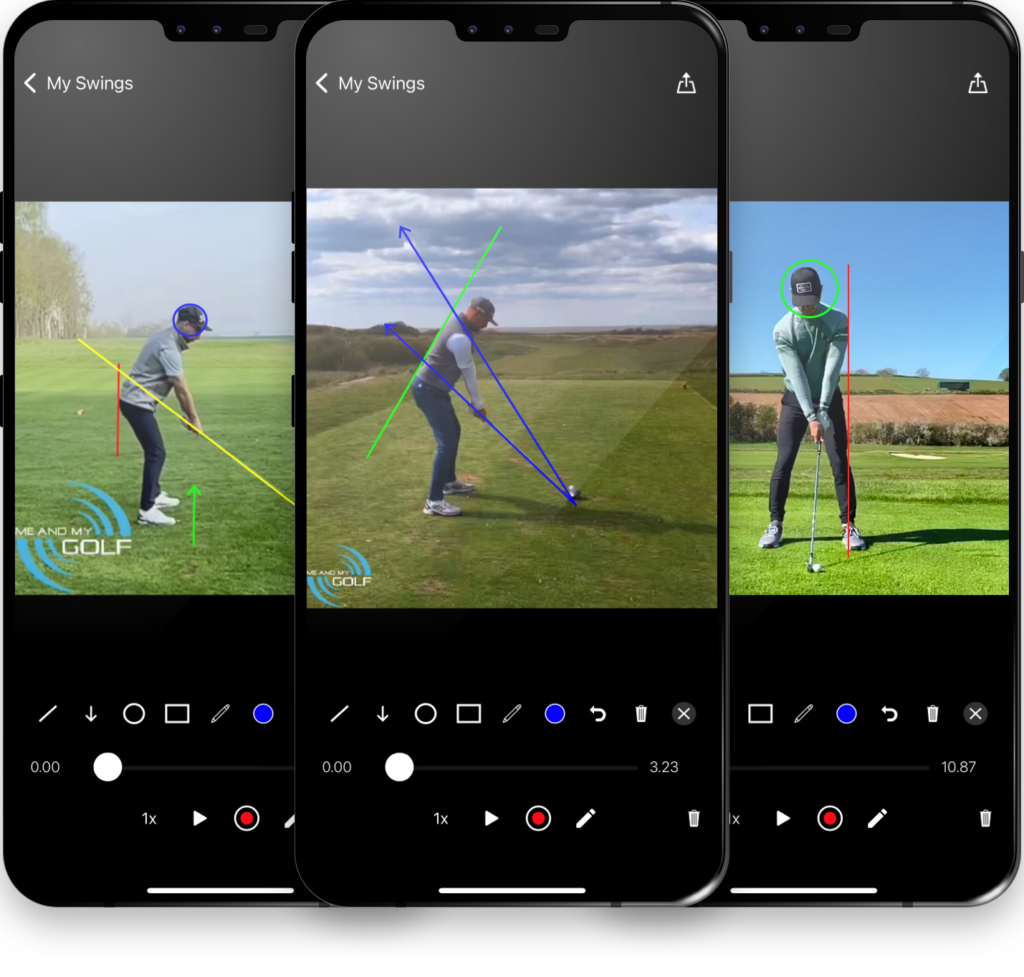 GET THE APP
POWERFUL ONLINE GOLF LESSONS IN YOUR POCKET
Our iOS and Android app is the most powerful golf coaching app in the world. Work on your game wherever you are, with Piers and Andy your personal coaches in your pocket.
Whether you're on the course, at the range, at home or on the go, you can access our content. Download the app now and never miss an opportunity to get better at golf.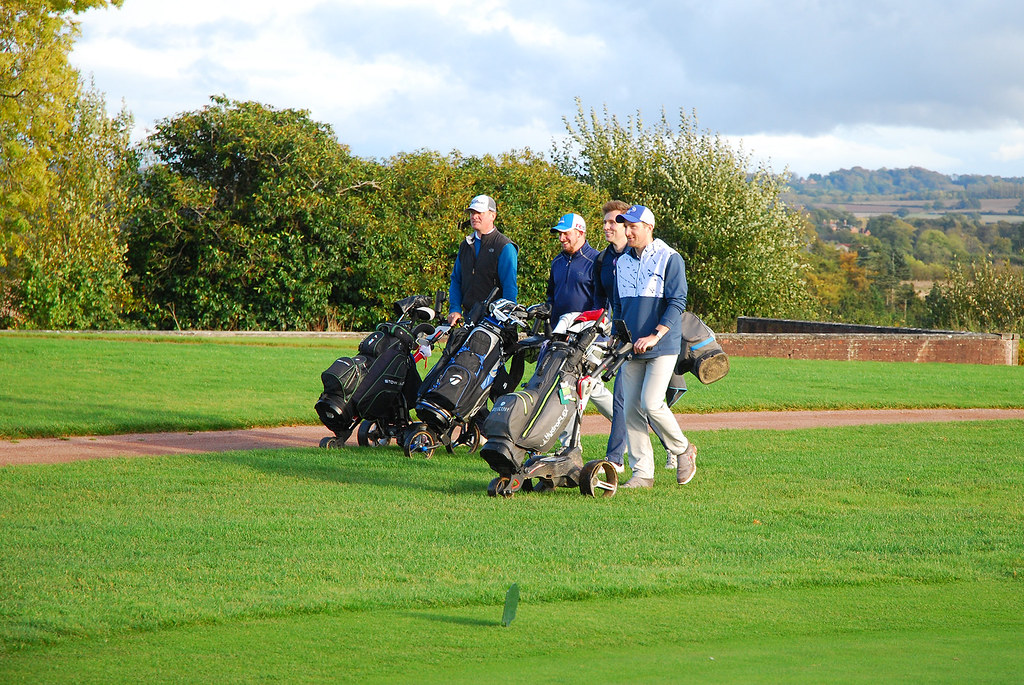 WE'RE A TEAM
WE'RE YOUR PERSONAL ONLINE GOLF COACHES
The beauty of our membership is that it gives us the opportunity to become the personal coaches of tens of thousands of golfers around the world. We dedicate every day of our lives to helping the average golfer play their most enjoyable golf and we are beyond proud to have built such a supportive global community of like-minded individuals all working together to help, support and develop each other. We truly are a TEAM.
But our coaching team extends beyond Piers and Andy. We have partnered with the most talented coaches in golf to provide you insight, drills and lessons that we could never offer on our own.
ANDY PROUDMAN & PIERS WARD
We've given tens of thousands of golf lessons to the average golfer over the past 20 years. We've also been fortunate to work with some of the best golfers on the planet, from world number ones and major champions to living legends of the game. And we've even taken Aaron Rai from an 11-year-old junior to playing on the PGA Tour. We put all of this incredible experience directly into the Me And My Golf coaching platform, so that we can help as many golfers around the world play the best golf of their lives.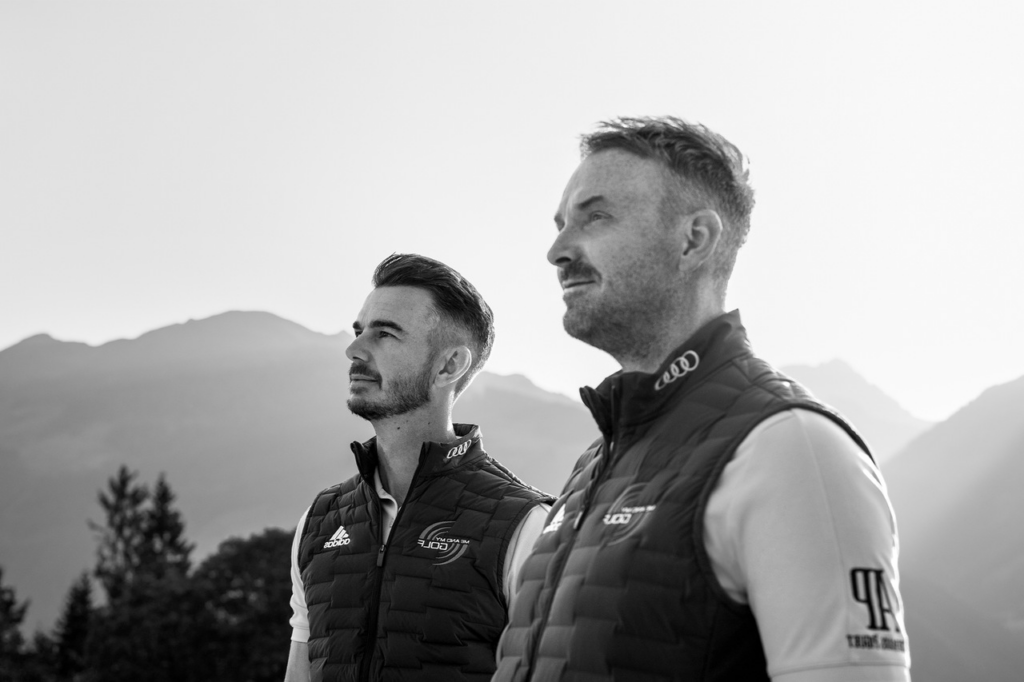 CHRIS TROTT
Director of Sports Marketing at TaylorMade and club fitting expert, providing exclusive access to his best insight from years of working on the Tour.
KARL MORRIS
Europe's leading golf performance coach helps to demystify psychology and develop performance at all levels of golf.
ROBERT YANG
An experienced nutritionist and strength and conditioning specialist, providing content focused on health, nutrition and fitness for golfers.
LIESBETH PAUWELS
A golf movement expert and performance coach helping golfers unlock their potential by improving their mobility and flexibility.
MARCELA SMITH
Our resident golf rules coach, offering our members the chance to learn more about one of the more complicated areas of the game.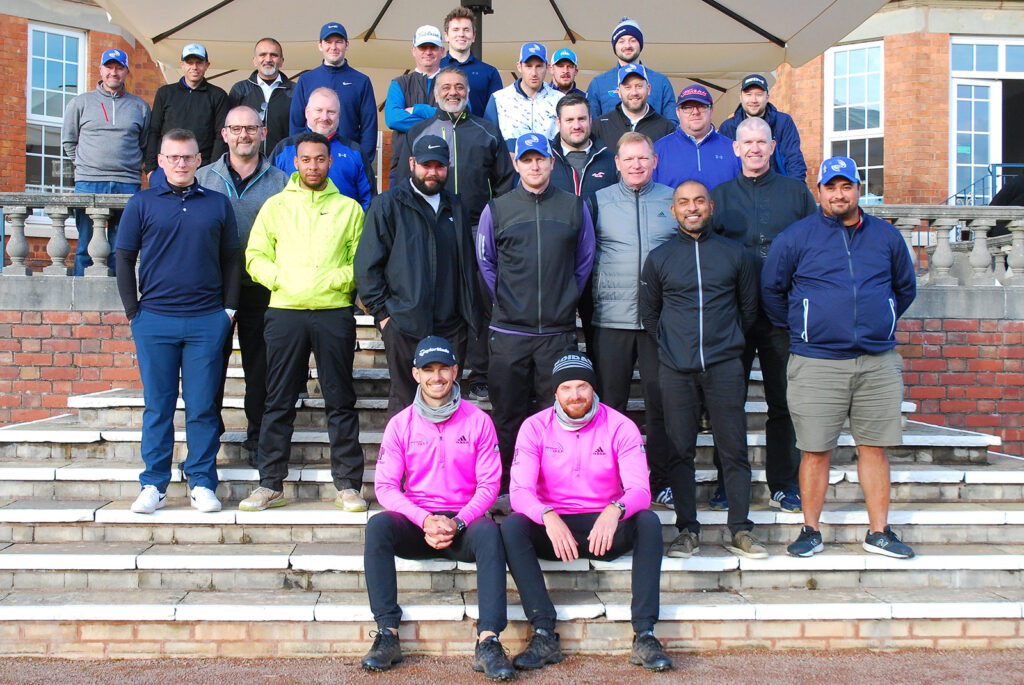 MEET THE MEMBERS
JOIN THOUSANDS OF HAPPY MEMBERS PLAYING THE BEST GOLF OF THEIR LIVES
By joining Team Me And My Golf, you'll be joining a community of like-minded golfers around the world who are seeing amazing, permanent results and playing better golf than they could have ever imagined.
We're seeing incredible results and transformations across our membership, from newcomers to the game to breaking 80 week in week out. But don't just take our word for it!
PRIVATE MEMBER GROUP
Members get access to our private Facebook group. Chat with other members, Piers, Andy & whole The Team.
WE'RE A TRUE TEAM
We work together. We're all one, pulling together to achieve our goals.
I went from a 14 handicap around 3 years ago to a 6 today entirely based on the instruction from Me And My Golf.

Christopher
I shot an 81 yesterday (with no gimmies) – my best round ever. A big thank you to Me And My Golf for all the courses!

Gavin
Simply put, they are the best online golf instructors period! Their lessons are presented in a way that makes them easy to understand and implement.

Tim
These courses are incredible. Picked up golf this season and broke 100 after about 8 or 9 weeks. Thanks guys!

Austin
JOIN THE TEAM TODAY
The $30k coaching package – from just $12 a month!
Don't just take out word for it, do what tens of thousands of our members did and join Team Me And My Golf. And we'll give you 7 days completely FREE so you can be sure you've made the best decision of your golfing career in joining us.
Frequently Asked Questions
Will I be charged for my trial?
No. Your 7-day trial is completely free and you can cancel it at anytime within those 7 days without charge.
Once your 7-day trial has finished, you will automatically be moved onto a paid membership of your choice where you get unlimited access to every single feature in our personal coaching dashboard.
How fast will I see results from Me And My Golf?
This depends on how much time you spend practising and whether you follow our instruction. However, our plans have been designed to bring you results in typically 4-6 weeks.
Can I really improve my golf by watching online videos?
Yes, you can. Being able to pause and rewind, gives you an awesome sense of the overall techniques and skills you need to enhance your game. The videos are broken down to make learning the game less of a chore and more of a fun activity you look forward to with pleasure. Many of our members practice their shots at home before going out to the range, while others say that watching the videos on the driving range helps them become better golfers.
Do I really need to subscribe? Isn't it easy enough to find free content online that will help improve my game?
Your subscription gives you access to our highly respected coaching team, including world class PGA Pros and specialist coaches.
We offer structured, easy-to-follow coaching plans that are unique to Me and My Golf and customised specifically for you.
How often do I need to practice after I subscribe to Me and My Golf?
What is important is that you practice the correct things. The Me and My Golf training program is flexible and only focuses on the areas you need to work on.
This means that you can practice whenever you're free, knowing you're working on the right things to achieve your goals. The coaching content is always accessible online, and this is something that can help you balance work and family commitments with your training.
What do I need to get started with Me and My Golf?
All you need to get started are some golf balls, a golf club and an open space to practice. Each plan will tell you if there's anything else you need before you start.